| Featured in PHAM News February 2021 |
With many residents spending more time than ever before at home, now is the time for homeowners to put thought and investment in green heating technology.
The Domestic renewable heat incentive (RHI), where homes producing their own energy via biomass boilers, solar water heating and certain heat pumps can claim payments, based on their production, for a period of 7 seven years, and the Government's Green Homes Grant, which subsidises energy efficiency or low carbon heating improvements made by homeowners up to £10,000, will both continue until March 31, 2022. Homeowners are able to claim against both schemes for an eligible renewable heating installation, and, the government has confirmed, installers can continue to work in people's homes during National Lockdown.
Additional consideration should also be invested in the front end of the domestic heating system – the radiator network – and how this may also need to be updated to make the most of green heating technology. While biomass boilers can largely perform on a par with fossil fuels equivalents, where the recommended output temperature for radiator water is 75 °C, in the UK, the maximum water temperature achieved by a thermal solar heating system may not exceed 60°C. Similarly, air source heat pumps will effectively heat water in the range of 55°C, and ground source heat pumps will heat to around 65°C, before efficiencies will be compromised.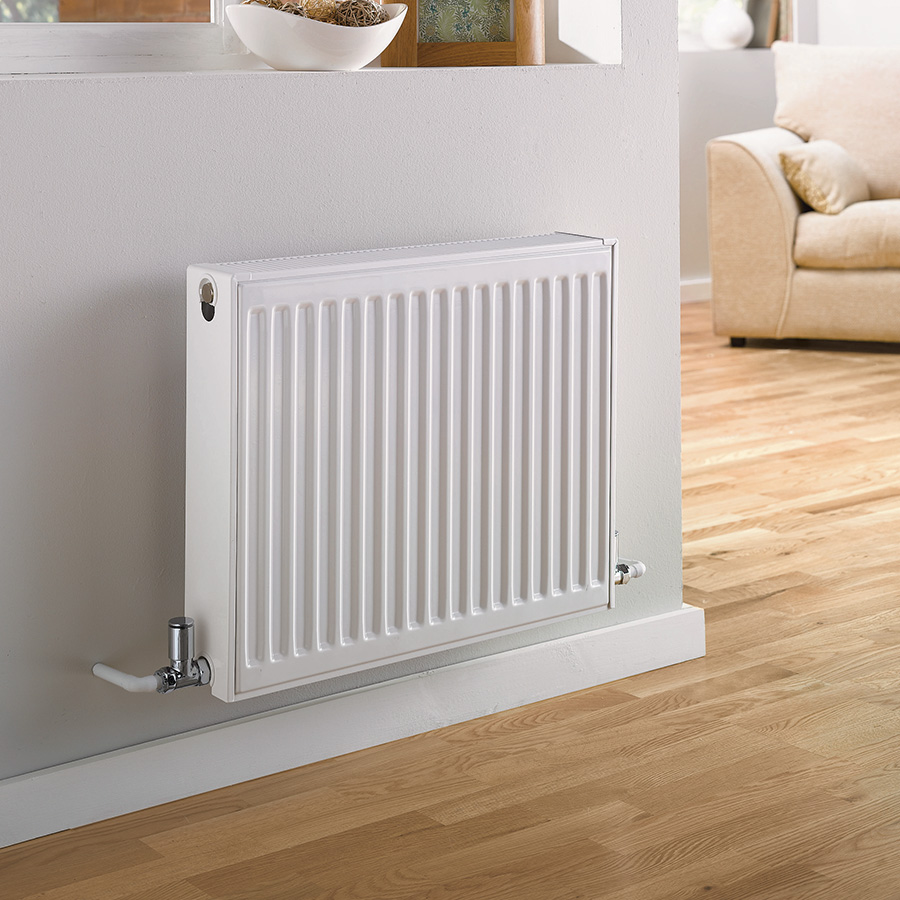 To avoid using a high amount of grid electricity to supplement the thermal solar and heat pump capacities, it worth considering the method of releasing heat into the home. A larger surface area will release more heat energy over time. By installing radiators with larger surface areas with your green heating system, the ambient temperature in the home can still be increased at the same rate as that achieved by a smaller device heated to 75°C.
By example, Ultraheat, continues to see significantly boosted sales of its Triple Compact radiators. The Triple design is well suited to work with renewable technologies.
"Our Triple Compacts are perfect to use with an air source heat pump or solar heating system," explains David Cartwright, National Sales Manager for Pitacs' Heating Division. "The bigger surface area of these large radiators creates a high overall heat output, heating the space effectively even when the temperature of the water flowing into the radiator is a bit lower."
The Ultraheat Triple Range features 94 size variants, between 300-2700mm in height and 200-900mm in length. The largest volumetric variant in the range, 600x2200mm, produces a significant 19419 BTU output at T50°C.
But the choice of radiator, in height and length, does not need to be visibly increased. To make a comparison, a single compact of size 500x500mm, 50mm wide, produces 1431 BTU output at T50°C. The triple compact equivalent, 160mm wide, produces 3824 BTU output at T50°C; the heat output is almost tripled, whilst the depth of the radiator into the space is only increased by 110mm. This allows a homeowner to maximise the heat output, whilst still preserving the amount of available wall space in each space.